Olympic athlete day - Friday 14th June 2019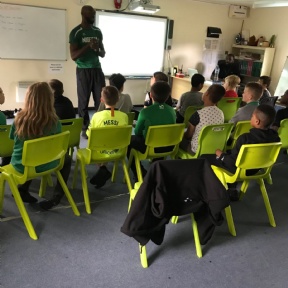 An amazing day was had by all after the Olympic long jumper, Ezekiel Ewulo, visited Fern House.
Fern House and Sports for Champions worked collaboratively to bring the Olympic long jumper Ezekiel Ewulo to our school on Friday 14th June for a sponsored event.
Ezekiel, who has represented both Nigeria and the United Kingdom, put our pupils through their paces with a series of activities designed for the pupils to be able to perform in their own homes. Many of our pupils found it tough going but all did it with smiles on their faces.
After the activities Ezekiel gave a talk on what life is like as a professional athlete and the challenges he faced growing up. Our pupils listened intently and responded with a series of excellent and well thought out questions.
In total our school raised £175.20 in sponsorship money. This is an excellent amount considering the size of the school. Thank you to all of you who contributed and took the time to help our pupils collect the money.
John Puddefoot
Deputy Headteacher